MY SISTER IS HAVING A BABY!! With babies come fun parties to celebrate the miracle that is life and my favorite of those parties is the GENDER REVEAL PARTY! In preparation for the first party officially thrown my Mathis Designs, I prepared decor, blew up balloons, hung streamers, dumped candy on the tables and pretended it was decor. It was a whirlwind, but it was SO FUN! A successful gender reveal to say the least. AND here's how I did it...
Some go-to decor that I definitely recommend when it comes to throwing a party or shower would be colored plates/cups/utensils as they also serve a purpose, as well as CANDY. It seems silly. But candy is probably the best "centerpiece" for parties. You have the accent of color and people can eat it. I love eating so that's a win-win in my book.
I also love me some good balloons. The original intent was the have helium filled balloons, however, the party store had other plans. Given it's graduation weekend, the demand for balloons was HIGH. So, we bought balloons, I blew them up with my super strong lungs and taped them to the wall to look like bubbles and happy things.
Among the many features of gender reveal party, I included a Diaper Raffle for guests to participate in. If a guest brought a package of diapers for the parents-to-be, they were entered for one of four Diaper Raffle Prizes. The prizes chosen for today's party were a few different Vornado Fans, as well as a Starbucks cold cup. I included winner cards that matched the overall design stationary of the party, a fun addition!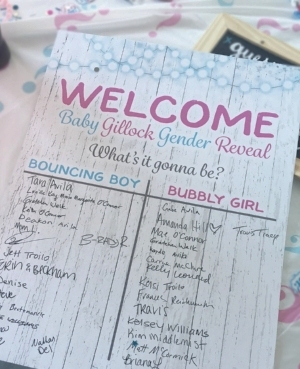 A great addition to a gender reveal party is a Guess Book. Acting as a guest book, this little diddy is a fun game and playful element of the gender reveal. When guests arrived they would sign their names under what gender they GUESSED it would be. (See what I did there) My sister was not desiring a guest book but I wanted there to be something people could do when they got to the party. This Guess Book is included in the gender reveal party kit now available here!
THE REVEAL!
Now the point of the gender reveal party is THE REVEAL! There are so many different ways to reveal the gender that vary from balloons to cupcakes to balls you hit with bats or golf clubs. However for my sister's gender reveal I chose SMOKE BOMBS. They are great for photos and are unique and exciting for the reveal. I have to attribute thanks to Poof There It Is, the Etsy shop for which I purchased the gender reveal smoke bombs. Keep in mind, if you purchase smoke bombs through Poof There It Is, which I recommend you do, or probably any other shop, that the shipping takes longer due to the regulation of the product.
For a video of the lighting of the smoke bombs check this out ---> CLICK HERE!
Down to the Last Detail
Something that I find to be going the extra mile when it comes to planning parties is the details! I believe that having correlating elements in the decor, invitations, and activities of any party are what make a party or event really shine.
Do you need to have cute signs that say what food is what? Maybe not. But will it pull the party together, look amazing, and impress your guests? Absolutely! The attention to details is what gets people talking and gets people to remember you and your event.
You're ready to throw an incredible and unforgettable gender reveal party! Just remember that every detail makes the day that more special!
Gender Reveal Party Kit Available Here